Redwood Mansion Playhouse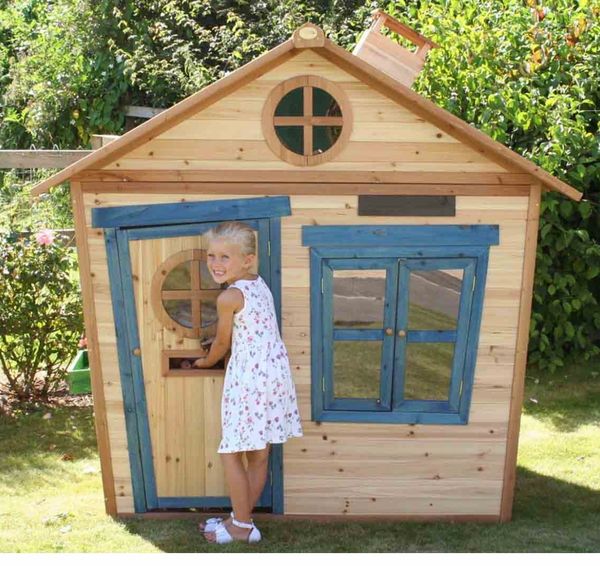 Redwood Mansion Playhouse
The Redwood Mansion wooden playhouse is fun transformation of our Redwood Lodge. Everything has been maximised and there's even more features! There's a much larger space inside which is perfect for older and younger children alike, the front door and windows are enlarged, and there's even a chalkboard name plaque and letterbox! The front panel and both side panels include opening windows with magnetic safety catches.
These extra accessories can transform the Redwood Mansion playhouse into all sorts of imaginary play worlds! Setting up shop is just one of these possibilities; they can display yummy play fruit and vegetables in the planter, write their very own shop name on the chalkboard and serve their hungry customers through the big windows! The planter tray can be placed under the front window or either of the side windows.
All parts are made with thick Fir wood for strength and durability, NO plywood or OSB is used.
We've painted the wood with colourful wood stain which reaches deep into the wood for long lasting vibrance, and we've already fixed the windows and door into the panels (as well as the frames and hinges), so assembly is very simple; fix the wall and roof panels together using predrilled holes and the screws which come in labelled packs.
Reviews
Featured Products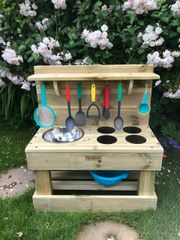 The Classic Mini Mud Kitchen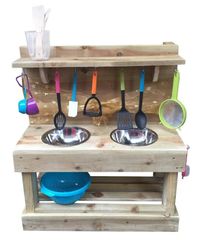 The Classic Double Dirt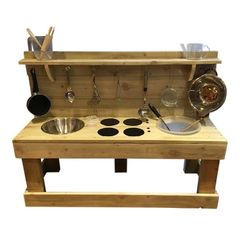 The Triple Trouble